Classic Hip Hop L.L.C. is dedicated to Hop Hop Culture, best represented by the Early Days (1974-1982) and the Golden Era (1986-1992) which focuses on the creativity of groups and individuals as well as the live expression of the Elements of Hip Hop Culture.

Classic Hip Hop L.L.C. was incorporated on July 14, 2005 and has offices in Washington, DC and Harlem, NY. The early stage of our mission will be to garner sponsorships for the Hip Hop Collectibles Exhibit and the Classic Hip Hop Concert Series. We feel that the general public is looking for a change. We have decided to build an organization that will help represent positive change via Classic Hip Hop.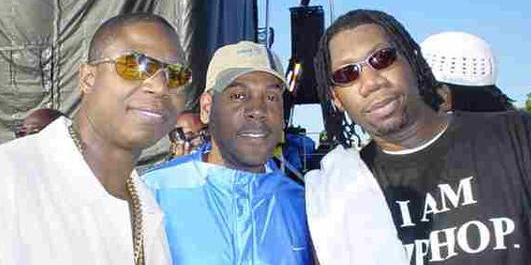 Doug E. Fresh, Easy A.D. and KRS-ONE


Hip Hop Icon Easy A.D. of the Legendary Cold Crush Brothers

A product of the "boogie-down Bronx" Easy A.D. was born in Fordham Hospital. He attended South Bronx Public School 50 and had a dream of attending DeWitt Clinton High School because of its rich basketball history. However, he chose South Bronx High School instead for its small class size and diverse curriculum. While at South Bronx High, he held the position of point guard on the varsity basketball team. Earning the role of Captain, he helped lead the team to the PSAL playoffs during its first year in the league.
Time outside of high school was spent at the Boys Club where A.D. developed a keen sense of competitiveness, leadership skills, and a strong work ethic. A.D. was very active, engaging in many activities: Basketball, Swimming, Bumper Pool, Ping-Pong, Checkers, and Chess. But, he soon fell in love with writing rhymes. Easy A.D. and his friend, Donald D, joined on with one of the Boys Club staff, and formed a group called the As Salaam Brothers. They expanded the group to include two DJs and two MCs, with one of the DJs being female. The group began playing local block parties in the Lambert Houses, the Dixie Club, the Boys and Girls Club, and local house parties. The group disbanded in the summer of 1978.
Soon thereafter, the two MCs, A.D. and Donald D, tried out for another group. Donald made the cut; A.D. did not. Not one to be discouraged, A.D. continued to write rhymes, attend shows and watch others perform over the course of a few months. It was at this time that he met the Original DJ Tony Tone, who was in the midst of forming his own group that he dubbed, the "Cold Crush Brothers." A.D. said to Tony, "I'm an MC." Without hesitation, Tony responded, "You're down." Ever since that moment, they have been "down" together.
The inception of the Cold Crush Brothers began with force – the group immediately began making history. The original lineup of the CCB was DJ Tony Tone, MC Easy A.D., MC Whipper Whip, DJ Charlie Chase, MC Dotarock and MC Mr. T-Bone. The first manifestation of the CCB remained together for approximately six months before Whipper Whip and Dotarock decided to move to what was considered to be a more established group, the Fantastic Five MCs, led by DJ Grand Wizard Theodore. No one new at the time that the destinies of these two groups would become forever intertwined.
Adding to the core of Tony, A.D. and Chase, the new CCB included new recruits: MC Grandmaster Caz, MC J.D.L. and MC Almighty Kay-Gee. This group configuration went on to become the "history-makers", the "ground-breakers", the legendary Cold Crush Brothers!
The CCB, which became known for stage-stomping performances and funky melodies, grew to be the most influential Hip Hop group of all time. Their in-your-face style style served as a wake-up call to other established groups, setting the standards for "battling" and all Hip Hop to come. This fact is referenced by a couple of attendees of their early live stage shows, Joseph Simmons and Darryl McDaniels. They later formed RUN-DMC and became one of the most widely reconized rap groups by building on the CCB template. The CCB appeared in the first Hip Hop movie, Wild Style, highlighted by a face-off scene with the Fantastic Five. Released in the early 80s, the movie featured the Arts of Graffiti, Breaking, MCing and DJing on film.
The Cold Crush Brothers made appearances on singles with KRS-ONE, Chuck D of Public Enemy, and Doug E. Fresh. The CCB are known for their epic battles with The Fantastic Five MCs in the world famous Harlem World Entertainment Complex in the 80s. The CCB was the first Hip Hop group to rock stages abroad, taking its high-energy stage show to Japan in the mid '80s. A.D. also toured with Afrika Bambaataa and the Soulsonic Force in 1987 and 1988.
The CCB's strong rhymes and melodies, along with the influence the group has had on Hip-Hop culture, is sufficient reason for it to be deemed the "Rolling Stones" of Hip-Hop culture. The Cold Crush Brothers have performed at many venues: Madison Square Garden, Roseland, Harlem World Entertainment Complex, the Savoy Manor and the Brooklyn Museum, to name a few. The group has had co-performances with Doug E Fresh, Chuck D, LL Cool J, Run DMC, KRS-One, Luke, DJ Kid Capri, DJ Red Alert, Grandmaster Flash & The Furious Five, The Sugar Hill Gang, Big Daddy Kane, Jay-Z, The Roots, Fat Joe and O.D.B. of Wu Tang Clan.
The CCB's movie and television appearances include Wild Style, Live @ Five, MTV, BBC documentaries, Metro Live and Russell Simmons' One World Music Beat. The group has also been covered in numerous magazines including The Source, XXL and Vibe. In 1999, AD partnered with KRS-One on a hot and new initiative called "The Temple of Hip Hop." This special project, led by KRS, consisted of a college lecture tour designed to stimulate discourse on the history of Hip Hop culture.
For the past 12 years, Easy A.D. has worked at the Harlem YMCA Jackie Robinson Youth Center as Director of Programs for Youth. For A.D., working with the youth is less about money and more about giving back to the community. A.D.'s programs offer activities in sports and recreation, leadership development and academic enhancement to the local youth. It is rare that A.D. is able to walk down a stretch of Harlem without receiving a "shoutout" from one of his students. In the world of local youth programs, he's the "guru" of young people. Easy A.D. keeps it real simple – it's all about mutual respect. He connects with kids on their level – through their music and culture.
Currently, Easy A.D. has several projects in the works, including a clothing line and a Hip Hop memorabilia business. He is also the co-founder of Classic Hip Hop L.L.C. which preserves and promotes the positive aspects of Hip Hop Culture. Books and a lecture tour are also in the works for this living history, Easy A.D. of the legendary Cold Crush Brothers.


A-tone


A-tone, The Hip Hop Historian

Born in Lewes, Delaware, A-tone consciously became a practitioner of Hip-Hop at the age of 12 in 1981 while being introduced to audio tapes from the early days of Hip Hop. He honed his B-boy skills at local junior high schools and the Berlin Multi-Purpose Center on the Eastern Shore of Maryland and Delaware. Progressing steadily, he won 2nd Place in a B-boy competition in Salisbury, MD in 1982.
During the early 80s, the Eastern Shore was burgeoning with different DJ crews that included: Force One, Grandmaster Funk, Omega Funk, Snead's Family Productions and many others. A-tone graduated from Indian River High School in Frankford, DE in 1987 and matriculated to Duke University.
During his college years, A-tone was first known as Ant-Lïve, the Hip-Hop Historian because he always seemed to be able to pull little-known facts about Hip Hop Culture out during conversations. His "always-on" personality contributed to the "Lïve" in his name. While at Duke, he attended an African-American Dance History class in 1991 taught by Sally Sommer. She was impressed with A-tone's knowledge of the history of Breaking and was asked to participate in an Independent Study on Hip-Hop the following year.
During the 1992 Study, A-tone went to New York City and interviewed Rock Steady Crew's Crazy Legs of "Flashdance" and "Beat Street" fame. Next to be interviewed was the Cold Crush Brothers' Easy A.D. of "Wild Style" fame. Then, the Original Jazzy Jay, who was instrumental in the creation of Def Jam Records and "The Low End Theory", the grounbreaking album for A Tribe Called Quest. A-tone's final interview of the study was with Grandmixer D.X.T. or D.S.T., who collaborated with Herbie Hancock on the classic recording, "Rockit".

A-tone graduated that year from Duke with a Bachelor of Arts in African-American Studies and Computer Science. Eager to expand on his cultural and technical expertise after college, A-tone moved to Washington, DC and got a job as a Computer Technician. Soon after his move in May, 1992, A-tone expressed interest to Crazy Legs in starting a Washington D.C. chapter of the Rock Steady Crew. Legs, being loyal to the Universal Zulu Nation which was the umbrella organization for Rock Steady, introduced A-tone to Afrika Bambaataa, the Godfather of Hip Hop and the founder of the UZN. A-tone, with the blessing of Bambaataa, eventually became a Chapter Leader for the UZN in 1992. This experience led to a DC Area grassroots following that still serves A-tone well.
1993 became a pivotal year for A-tone. Sally Sommer, his former professor at Duke, again reached out to A-tone, which resulted in him becoming a presenter of Hip-Hop at the Washington Performing Arts Society's Percussive City Dance Festival in 1993. A-tone quickly took charge of the entire Hip Hop portion of the program, by writing an article for the sold-out shows' program guide and audtioning talent. During the auditions, A-tone chose local dancers FloMaster, Diamond, Wa-Wa and T-Money and DJ Young Guru to open up the show. The Rock Steady Crew, featuring Crazy Legs, Mr. Wiggles and Pee-Wee Dance, headlined the show. Having a true eye for talent, A-tone saw DJ Young Guru eventually become a studio engineer for Jay-Z, producing the record-breaking "Black Album". He also witnessed B-boy Flo-Master join RSC by battling Legs. Flo then did a one-man show in Vegas and then moved on to the West Coast where he is still hugely popular as an in-demand dance talent. Flo appeared in music videos for Christina Aguilera and became Usher's personal trainer. The WPAS event drew widespread regional attention, with A-tone being quoted in the Style section of the Washington Post.
Another major presenting gig came in 1993 with the Smithsonian Institution's 1993 Festival of American Folklife. Staying true to form, A-tone immediately was tapped to organize the program. He recruited DJ D'Salaam, MC Nuborn, Flo-Master, Diamond, Lobo and others to perform in front of a packed crowd under the largest tent on the National Mall. Another of his recruits for the event was former rapper Steph Lova who eventually became a radio personality for WPGC 95.5 and for Hot 97 in New York. She also became a video jockey for MTV2. One of A-tone's articles graces the pages of the official program for the 1993 Smithsonian Festival of American Folklife. He also wrote articles that were published in two other Smithsonian programs that featured the Rock Steady Crew, Rhythm Technicians and GhettOriginal Productions.
Later in 1993 and in 1994, A-tone wrote articles for a fledling magazine called "YSB" or Young Sisters and Brothers on Hip Hop-related issues. While displaying his writing skills, A-tone, took the time to appear on stage with the Rock Steady Crew at a Kennedy Center performance. Another presenting opportunity came in 1994 with the Washington Perfoming Arts Society which featured Tracie Morris of the Nuyorican Poets and DJ D'Salaam. Yet another Hip Hop presentation for WPAS led by A-tone featured Storm the Unpredictable, Kokayi, Sub-Z (future members of the Plexus Crew and Opus Akoben) and DJ D'Salaam at the Gala Hispanic Theatre in the Adams-Morgan section of Washington, DC. DJ D'Salaam eventually built his own recording studio, Urban Intalek, and is part of the nominating committee for the Grammy Awards.
A-tone became married in 1994 and has two children. After the Million Man March in 1995, he was inspired to change name from Ant-Lïve to A-tone, which references the concert "A" or 144 beats per second, that orchestra instruments tune up to before playing.

Continuing to express his love for Hip Hop Culture, History and Art, A-tone re-connected with Easy A.D. and formed Classic Hip Hop L.L.C. Their collaborations have resulted in two hugely successful Hip Hop Culture exhibits. One at the Schomburg Library for Research in Black Culture and the other at the Harlem YMCA. A-tone currently resides in the Washington, DC Area and is working on a book with A.D. on, what else? Hip Hop History. At the same time, A-tone and A.D. started the Classic Hip Hop Club, a membership organization and subsidiary of Classic Hip Hop L.L.C. They also opened a venue of the same name in Northwest Washington, DC that features DJ RBI, DJ Jav, DJ Dadeo and local Breakers and Funk Stylists. Other projects in the works include a once-a-month radio show and a college lecture tour. A-tone continues to represent the positive aspects of Hip Hop History, Culture and Art in his daily life.